Meet Our Team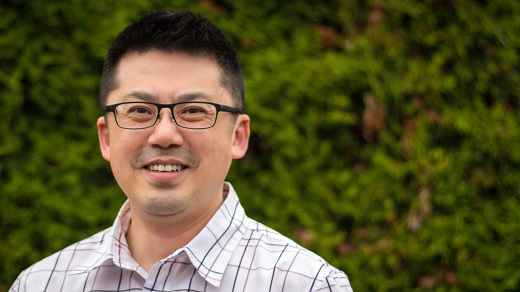 Samuel Choy, Lead Pastor
Sam grew up in Vancouver and is a graduate of Talbot School of Theology in La Mirada, California. He has been in pastoral ministry since 1997 and was ordained in 2003.
After seven years as a professional engineer in the field of mechanical consulting (building design), Sam followed God's call to build up people rather than buildings. At Resonance, he gets to do that through preaching, leading, and designing environments for connecting people to Jesus Christ.
Along with the blessing of serving at Resonance, Sam cherishes his roles as husband to Karen, and dad to their three boys and only begotten daughter.

Kat Choy, Children's and Youth Minister
Kat grew up in North Delta attending a small church not too different from Resonance!

After working in public and private practice as a CPA for 12 years, Kat decided to pursue her dream job of working in kids and family ministry at Res where she gets to encourage kids to love and follow Jesus.

Spending time with husband, Noah, playing lego with her son and attending mommy-me art classes with her daughter are some of her favourite activities.

Anna Lam, Administration Coordinator
Having graduated from UBC in Physical Therapy, Anna has worked in the both the private and public sectors, currently responsible for the management of provincial health care services for injured workers. Though she initially did not see how God could use her in a project as massive as church planting, she is happy that He has taken her administrative disease talents and leadership skills to assist in His vision for Resonance Church as Administrative Coordinator. She happily (on most days) juggles her roles with the roles at home, as wife to Allen and a mother to two playful boys. To keep up with running after all her boys, she teaches group fitness power classes as a certified instructor.
Whether with her staff hat as Administrative Coordinator, or as worship leader, or group leader, or nursery staff, or in her everyday circles of influence and interaction, Anna is expectant that God will use her to impact others for Christ.

Chris Fong, Director of Ministry Operations
Serving people is Chris's greatest passion in life—a passion that flows out of the roots of his deep Christian faith. Having grown up in the church, Chris has served in many areas of ministry, including leading worship at his local church, guest preaching in various churches in the Metro Vancouver area, teaching Sunday School to children and adults, leading youth groups and university campus groups, and providing care to toddlers and seniors.
With his multifaceted skills developed from his engineering, psychology and seminary studies, Chris loves to develop people and systems through facilitating ministry and operation growth at Resonance Church.
Along with his work at Resonance Church, Chris serves concurrently as Director of Business Operations at Burnaby Counselling Group, a faith-based professional counselling agency serving Metro Vancouver and Fraser Valley.
While not working or serving in the church, Chris applies his creative talents in building Lego and salivates over anything mango. He is a loving husband to Annie and a doting father to Karissa.